About Us
A FREE Celebration of Multicultural diversity for the whole Community
Vibrant, Colourful, and Fun for Young and Old ~ Share, Participate, Enjoy, & Appreciate each Country's Unique Form of Art & Culture. 
​FESTURI's Annual Festival offers a place to:
Connect, Share and Celebrate our Differences

With a Global Stage, Acoustic Stage, Drumming Workshop, Children's Festival, and Around the Street, our program offers something for everyone

Immerse your senses in the vibrant and dynamic myriad of international styles, colours, and flavours.

Explore the various art forms, interactive workshops music, dance, international foods, and more.

Welcoming the many new acts from Trinidad to Colombia and everywhere in between.
About Us
The objective of FESTURI is to promote the Sunshine Coast as an inclusive community where cultural diversity is valued and celebrated through a festival event which: 
fosters community education and cohesion 
increases the local population's knowledge and appreciation of the culturally diverse communities on the Sunshine Coast and their contribution to community life 
showcases the talents of culturally and linguistically diverse artists 
develops international, national and regional opportunities through sustainable partnerships which promote multiculturalism 
showcases the achievements of Sunshine Coast students who study languages other than English 
invites and encourages active participation of local people from culturally diverse backgrounds in the event.
History of FESTURI
FESTURI began in 1999 and has been delivered annually since; progressing from a concert-type program featuring song and dance from many different cultures, to an extremely high quality week long festival which encompasses a broad range of activities featuring local and international performers. The name "FESTURI" is not a "real" word.  It is a hybrid of common elements of the words for festival or celebration from a number of different languages.  The languages used to make this word were those of students from the Sunshine Coast Intensive English Unit in 1999 – the first year this event was staged.  It is always written in capital letters. 
FESTURI event management team has progressed over the years; starting from a community-based committee consisting of members of the NESB (Non English Speaking Background) Parents' Support Group, teachers from Nambour schools and representatives of a number of different Sunshine Coast multicultural organizations, to an Incorporated Non-Profit Organisation - established in 2004, to reflect the move to combine with another multicultural event, the Multicultural Extravaganza, to stage a weekend long event at the University of the Sunshine Coast. This amalgamation gave rise to FESTURI 2004 a multicultural celebration attended by more than 10,000 people which, under its new name, continues to be a premier multicultural event for the Sunshine Coast and broader south east Queensland region. 
In 2006-7, the festival was expanded to include a more comprehensive Workshop Programs with more multicultural games, music and song, art, craft and interactive installations, inviting more visitor participation than in previous years, as well as developing a pilot Storytelling Tent and Sister Cities involvement.
FESTURI has continued to grow over the years, and in 2021 became a charity listed with the ACNC (Australian Charities and Not-for-profits Commission).  It has also branched out to further areas of the Sunshine Coast and now encompasses the Sunshine Coast Hinterland. 
Would You Like To Donate to Festuri?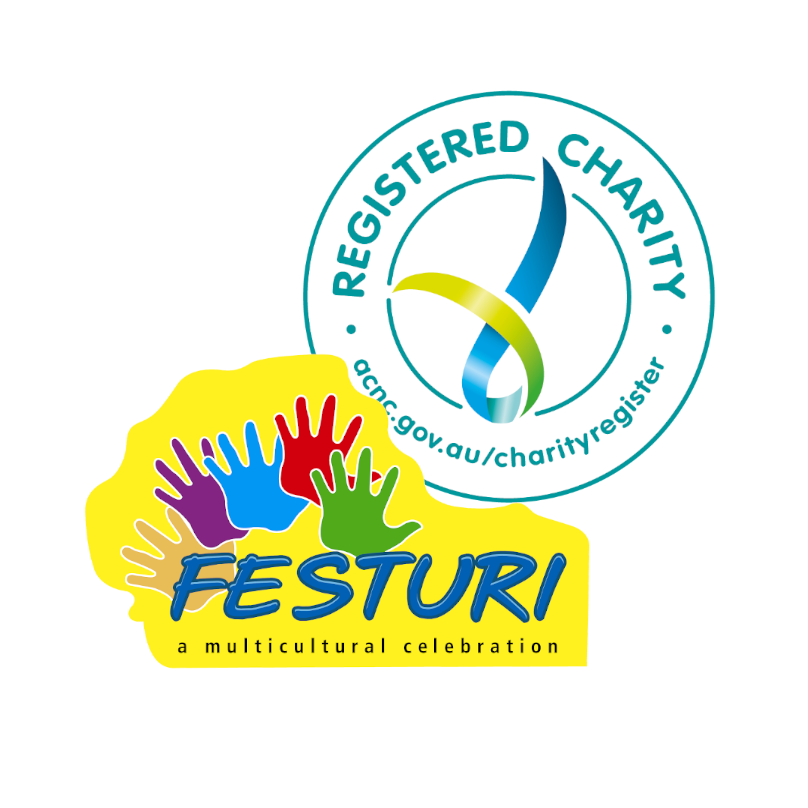 Please Donate to Festuri and Help Keep This Multicultural Festival Alive On The Sunshine Coast...
Keep multiculturalism alive with your contributions!
Enter the amount you wish to donate
OR DONATE BY CHEQUE OR MONEY ORDER
Please make Cheques or Money Orders payable to:  
​     FESTURI – A Multicultural Celebration Inc. P.O. BOX 97, Buderim QLD 4556 
Alternatively, you can pay via direct deposit online:  
​     BSB No: 638 010  
     A/c: 9395598  
Please add your full name in the reference and we will acknowledge you on our appreciation page.  You. may also leave the reference blank if you wish to remain anonymous.
FESTURI is a Non-Profit Organisation established in 1999 and incorporated in 2004 
FESTURI Constitution 
All incorporated not-for-profit organisations must by law have a constitution (also sometimes known as their rules, or articles of incorporation, or articles of association). 
FESTURI Model Rules 
The basic form of the constitution of an incorporated not-for-profit organisation is generally drawn from the Model Rules attached as regulations to the Associations Incorporation Act in each state.
Incorporation Rules for FESTURI - a multicultural celebration Inc are available in different formats to download for new members, board members, stakeholders, and anyone else who's interested.